As experts in recruiting sales and marketing roles for the automotive industry, we often assist our clients with job descriptions – making sure they will attract the right people with the right skills, experience, attitudes and values. If you have ever struggled to attract the right people for a job vacancy – read on. Getting your job description right is a vital element in ensure success in the recruitment process.
Constructing a compelling job description is essential if you want to attract the most qualified candidates for your role. It is much more than a list of responsibilities and tasks. When well written, it is a marketing document that sells your company to the best talent on the market. It is also a tool for performance measurement and shapes the perception of the role in the candidate's mind.
Uses for a job description
Job descriptions are vital when you are recruiting for a vacant role. However they should not just be used for this purpose. Every employee in your business should have a clear job description that details their responsibilities, expectations and required competencies. It then becomes an invaluable management tool when reviewing an employee's performance.
How long should it be?
A well written job description needs to give all the required information but still be short and concise. For reference, the job site Indeed reports that 'job descriptions between 700 and 2,000 characters get up to 30% more applications than those with larger character counts'.
What to include
Company Name
Job Title
Job Summary – where the role sits within the team, department and wider business.
Key areas of responsibility and the deliverables expected.
Candidate Requirements:
Skills / Competencies
Attributes
Qualifications / Education
Other – Location and travel requirements.
What's Offered in return (remuneration, benefits & opportunities).
Let's look at each of these elements in more detail:
Job Title
Make sure you use an appropriate job title. Ask yourself 'If I was looking for this job, what would I type into the search bar'? Whilst creative job titles can be indicative of a more laid back culture, they may be misunderstood. Moreover, people search for roles that match their skills and experience. Its best to stick to obvious job titles that best describe the job. The first part of the job title tends to denote the function while second part denotes the level eg: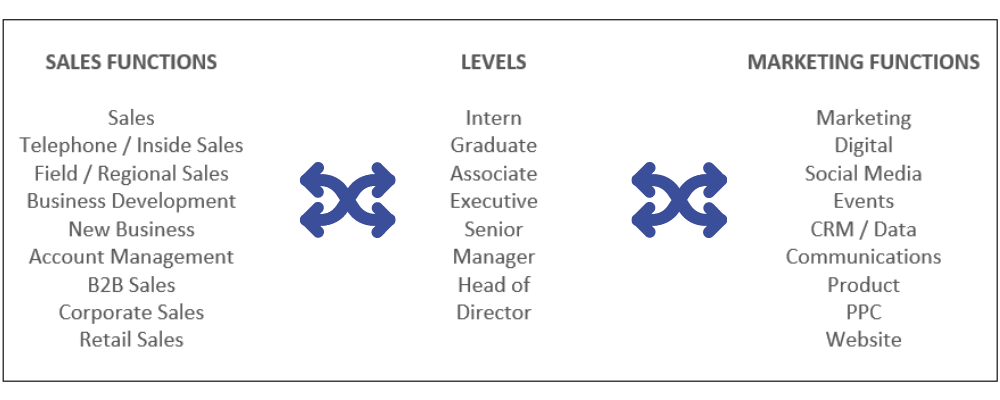 Job Summary
Always start with a short, engaging overview of the role. It should be one to four sentences long and can include the following:
A descriptions of the role's major function
How the role contributes to the wider company objectives
An overview of the company/ brand and what makes it unique
A brief look into the company's culture and why a candidate would want to work for you
Scope for progression
The exact job location
Normal working hours
Areas of Responsibility / Accountabilities
Describe the key job functions in bullet points. Try and keep it to under 10 bullets.
Highlight the day-to-day activities of the position. Avoid long boring descriptions of every single task. Specify how the position fits into the organisation and who it reports to.
Give details of deliverables and if you wish include how they will measured
Candidate Requirements
Again, use bullets for this. You can either have one list or split into different sub-sections, for example:
Experience
Include essential and preferred experiences. Think about what experience is really essential for the job what what can be trained.
Skills or Competencies
These are skills that will have been acquired by experience and / or training. Use a mix of both hard and soft skills. Including skills such as verbal and written communication, IT skills, website management, sales processes, CRM systems etc.
Attributes / Attitudes
These are the hard wired personality traits that an individual will possess. This could include things such as 'persistance', 'attention to detail', 'problem solver'. These things are often the hardest to identify when reviewing CVs but can be investigated at interview. They will help you identify high achievers from mediocre or low achievers. See our articles on How to Recruit Sales People and How to Recruit Marketing People.
Qualifications / Education
Make it clear whether qualifications are essential or desirable
Other
This could be any other requirement for the job eg Willing to travel extensively, valid driving license etc
What you offer in return
Include salary, any bonus/commission and benefits. Its also great to add a closing sentence or two about the opportunity you are offering eg 'The chance to join a fast growing, dynamic business who offer great onward career opportunities'.
Mistakes to avoid
Internal Terminology
Job descriptions need to be understood by candidates external to your organisation. The use of internal terminology may put off the very people that you wish to attract.
Stakeholder Involvement
The most accurate specifications are produced with the involvement of several different business areas. When defining or refining what a role entails, do so with the input of HR, line management and employees in a similar function.
Unrealistic Expectations
Be realistic in your expectations. A job description should accurately represent the skills that are required to be successful in the role. It is not a wish list of every skill that may be useful.
Discriminatory Language
The use of certain words or phases in a job description can be construed as discriminatory. It can also limit the diverse applicant group that employees should strive for. If unsure, view the government advice HERE
Regularly review job descriptions
Job descriptions should reflect the fact that organisations are constantly evolving. They should therefore, be reviewed, ideally annually, and amended as appropriate.
Job Description Templates
To help get you started we've created some job description templates to download.
Job Description Template 1
Job Description Template 2
Job Description Template 3
Further Reading
Narrowing Down Your Candidate Pool
10 Things You Need to Ask Your Recruitment Agency
…