With the country in a period of high inflation it's vital that employers review reward packages to ensure they retain and attract the best employees. The BBC reported that between March and May 2022 basic pay was down 2.8% yr on yr when inflation is taken into account. Add to this the fact that unemployment rates remain extremely low (3.8%) and you have the perfect storm for employers who wish to retain and recruit employees.
What Benefits do Employees Most Value?
If you are to reward and incentivise employees effectively its important to understand what they most value. Otherwise hard efforts to reward might have little or no effect. Perhaps consider asking your employees what benefits they most value. In our own recent independent research revealed healthcare and holidays to be the most highly valued.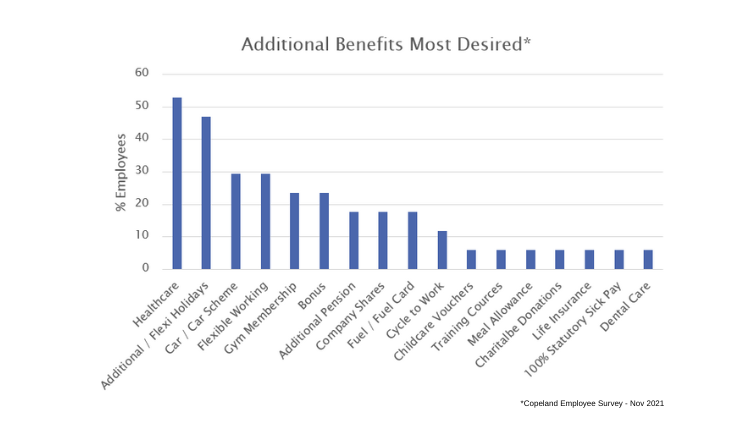 Ways to Reward Employees
Strong salaries are the most obvious way to reward/attract employees but don't overlook the numerous other ways to keep employees statisfied and motivated. Let's look at some of the options:
Financial Based Employee Rewards
Salaries
Salaries are on the rise. The Financial Times has reported average private sector pay increases to be at 7.2%. This is still not keeping up with inflation which is now over 9%. Every business will be making their own choices on pay reviews. But if you want to attract and hold on to the best people you need to get as close as possible to inflation. As experts in recruiting for the automotive industry, Copeland are able to advise our clients on the latest salaries for specific roles. Get in touch.
Bonus & Commission
When properly managed, bonuses and commission should not cost a business anything. If based on performance and success they can be the ultimate way of incentivising employees. Unfortunately not all employers get it right. We often hear from employees seeking a new job because they did not receive their bonus or their targets (and therefore commissions) are unattainable. We advise a regular review of your bonus and commission structures. Benchmark against your industry sector to ensure you stay competitive. If you're not sure what to offer – ask an industry specialist recruiter to advise you.
Reward Schemes
Numerous companies offer reward schemes such as Perk Box, RewardGateway. These can be a great way to make employees feel more appreciated and hopefully more motivated. Appreciate offers an Automotive Industry specific scheme. This provides employers with a platform to offer enticing incentives to hit sales targets.
Car Schemes
Employee Car Ownership Schemes (ECOS) are a way of providing a car(s) to employees in a way that Benefit in Kind taxation restrictions do not apply. Businesses such as Car Benefit Solutions specialise in providing company car solutions with the potential to deliver substantial business savings and value-adding employee benefits.
Non-Monetary Employee Rewards
There are a number of ways employers can reward their employees without putting their hands in their pockets. These include:
Flexible Working Location
This is probably one of the biggest asks (following salary) that automotive industry employees we speak to are looking for. The Covid Pandemic has firmly re-set the bar when it comes to flexible working and almost all our our automotive industry employers are responding by offering a more flexible work pattern. The average seems to be 2 days at home/3 days in the workplace – however some of our clients are now happy that traditionally office based functions are done almost totally remotely – with occasional meet ups. These employers are benefiting from much wider candidate pools and lower attrition for key roles.
Flexible Hours
Another trend with many automotive employers is offering more flexible working hours. Some of the businesses we work with are offering employees flexibility to choose when they work – but asking that they work core hours eg 10am-4pm. Some are even allowing employees to choose their own working hours. This improved flexibility and work-life balance is a big draw for many employees – particularly those with young children.
Time
Line managers can give employees more of their time and attention to show them that they are valued. One-to-one time with an employee is very valuable. If line managers offer genuine praise and appreciation this can go a long way to making an employee feel content.
Recognition
You can put a recognition system in place that ensures the best employees get the appreciation they deserve. This could be a weekly/monthly team meeting and an employee event. Recognising employees promotes a positive culture and encourages employees to strive for success.
Career Development & Job Titles
Most employees are motivated by the opportunity to progress their career. A clearly defined career path and promotional opportunities will help keep employees motivated – as long as false promises are not made. Giving an employee a new job title can be a temporary measure to help keep them motivated. This could reflect new responsibilities they have taken on. Beware if you don't back this up with a pay increase fairly quickly it could end up having the opposite of the intended effect.
Final Thoughts
Navigating your business through today's difficult economic times is not easy. But never was it a more important time to have the right employees on board. Getting salaries and benefits right is a key challenge for employers – and one that Copeland regularly help automotive industry employers achieve. Please get in touch if you need any help.
Further Reading:
Automotive Industry Salary Guide
10 Employee Retention Strategies