Are you keen to progress your automotive industry career out of a dealership? There are many options open to you and much that you can do to boost your chances of finding your dream job.
You may have built up a number of years' experience in a sales, aftersales, parts, F&I, fleet or marketing and want to take your skills and experience into the wider automotive job market and perhaps work for a vehicle manufacturer, marketing agency, automotive finance or insurance business, leasing company, brokerage or other supplier to the automotive industry.
What are the Career Options when moving out of a Dealership?
Working in an automotive dealership is a fantastic grounding to a career in the automotive industry and many employers will actively look for people with this experience. But what are the career options for someone who decides it's time to move on from the dealer world?
This very much depends on your area of expertise, so here are some examples of career options after dealer life: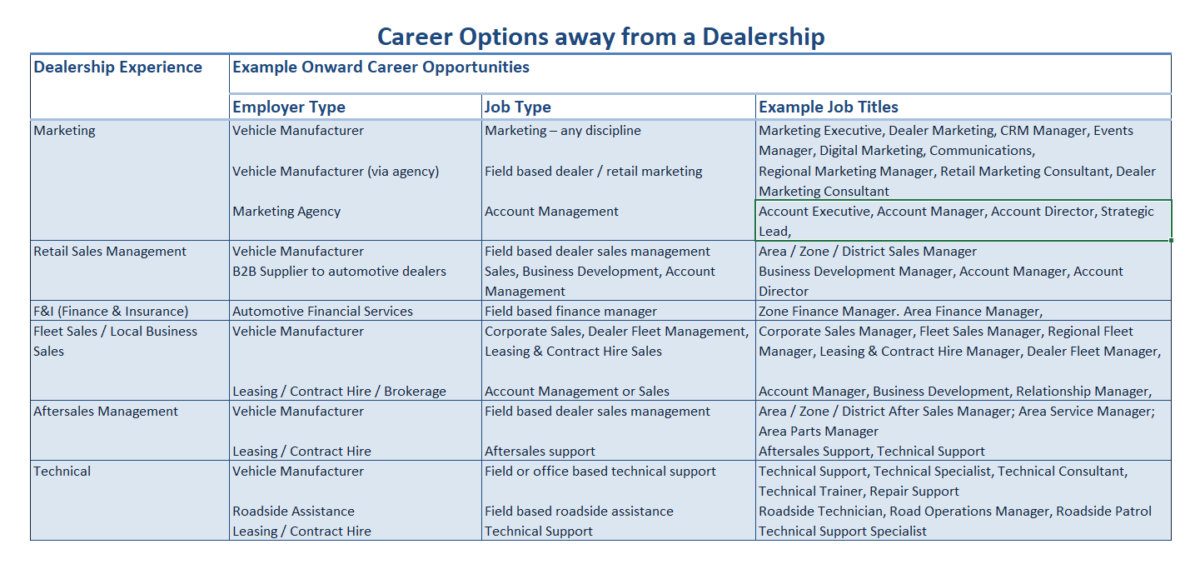 Take a look at our Candidate Case Studies to see how Copeland have helped others achieve their automotive career dreams.
What Are Employers Looking For?
Here are some of the common attributes employers are seeking:
A solid, progressive career history – not too much job hopping
Evidence of promotion or progression in your career
A smart, professional appearance
A self-starter with a 'can-do' attitude
Excellent verbal and written communication skills
Flexibility to move into a field-based role
Do I Need To Have A Degree?
We are often asked, "Do I need a degree to move into a manufacturer role". Whilst a degree is undoubtedly useful it is my no means essential and we have placed many people into fantastic manufacturer roles who do not have a degree. The criteria listed above are far more important.
How do I Start My Job Search?
We recommend you start with some thinking and planning time. Decide why you want to move and what's important to you. Think about what skills and experience you have that another employer would value – do you have enough experience or the right experience? Be prepared to be patient if you find that you don't yet have enough experience. It's worth taking advice from peers, your manager or others who have made the move after from dealer life – listen and learn. A good starting point is our Automotive Career Checklist to help you review your career objectives and plan for the future so that you can make the right career choices.
Once You Have A Plan, What Next?
Get your CV in order. A professional, well presented CV is essential to getting an interview. Copeland have over 18 years' experience advising automotive employees on how to write a good cv.
Get your LinkedIn profile working hard for you. A professional photo and the right key words are essential as is good detail of your career history. Read our advice: How to Get Noticed on LinkedIn.
Seek out expert recruitment consultants who specialise in the type of job you are seeking and will be able to advise you on the best steps to take.
…
Be Patient & Work Hard
Keep up to speed with automotive industry news. Automotive Management, Fleet News and SMMT are good places to start. Follow businesses you are interested in on LinkedIn.
It may take a while for the right job opportunity to arise. In the meantime, keep working hard and impressing your current employer. Put yourself out there and go the extra mile – this might just lead to a promotion – which will add to your chances of getting noticed and securing the new job you desire.
…
Further Reading:
Automotive Industry Salary Guide
…
Copeland help automotive employees progress their careers. Learn more about HOW WE HELP CANDIDATES or If you're ready for your next career move start by registering with us HERE.
Get in touch: E: [email protected] T: 07973 286342